About
Radio Woodstock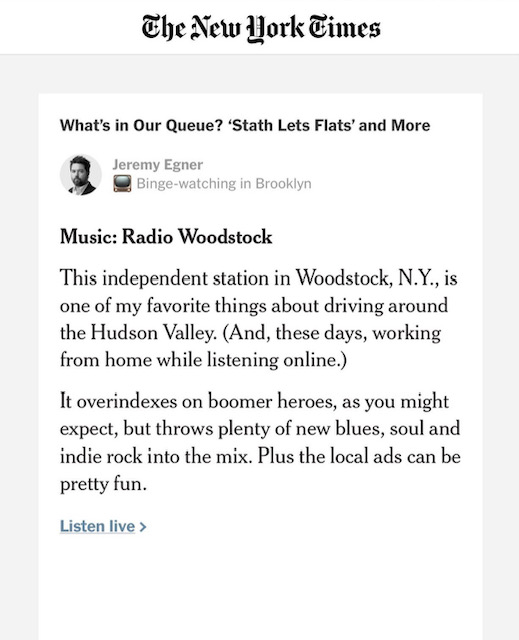 Radio Woodstock 100.1 WDST, tagged as the New York Times' " favorite thing about driving around the Hudson Valley", has been the recipient of numerous national and regional awards for its eclectic and innovative programming. Radio Woodstock operates as one of the most influential listeners and local advertiser-supported radio stations in the world. As a locally owned media company for over 40 years, Radio Woodstock produces curated special music programming, advertising campaigns, digital marketing solutions, experiential marketing programs, virtual and live music experiences. Radio Woodstock's curatorial staff of DJs, who are recognized as experts in their field, present the newest emerging artists while paying tribute to established talent. Radio Woodstock's programming features the concert experience, new artists, and homegrown favorites from the Hudson Valley, the country, and throughout the world. Radio Woodstock produces concerts and festivals including the Mountain Jam Festival, which has grown to become one of the largest rock and camping music festivals in the Northeast.
Radio & Digital Advertising
We customize integrated marketing and sponsorship campaigns utilizing our portfolio of on-air and streaming commercials as well as live events. Advertise with us and your business will attract a large desirable audience primarily ages 30 to 65, educated, well-traveled, homeowners with high disposable incomes. Radio Woodstock digital Services also provides targeted marketing programs including search engine optimization, geo-targeting, display ads, retargeting, SEO and SEM, Social media marketing, on Facebook and Instagram as well as Video ads on YouTube and Streaming Television. Our experience in Digital advertising delivers results and is well known as one of the best local and regional platforms.
Graphic Design
The most well-planned advertising campaign would be ineffective without high-impact, quality graphic design. Great design is the key to a successful marketing strategy.
Motion Design
Motion design is a discipline that applies graphic design principles to filmmaking and video production through use of animation and visual effects. Examples include films, videos, animated text, and web-based animations and apps. Motion design has evolved as a direct result of technology improvements.
Web Development
Radio Woodstock Digital Services empowers businesses with creative ideas to succeed. Get started with a professional website.
Live Events Production
Led by Radio Woodstock's principal owner Gary Chetkof,Chet-5 Productions/Chet-5 Festivals are one of the largest live event production companies in New York's Hudson Valley, specializing in producing large scale outdoor events in unique locations.